MAKE YOUR NEXT GIFT UNFORGETTABLE
Create A Gift They Will Talk About for Years to Come

In as little as a day or two, you can gather memorable toasts and tributes from family and friends both near and far.
The recipient will LOVE their gift or your money back - a guarantee based on over 10 years of supplying happiness.
How Does LifeOnRecord Work?
Purchase LifeOnRecord  
Receive your account instructions and toll-free number. Record an introductory greeting using our sample script.
Invite Callers
Use our personalized instructions to communicate the toll-free number to friends & family.
Manage Recordings  
Decide the sequence, what recordings make it onto the final product, and edit the recordings if desired.
Wow Them!
Present the recipient with a physical or virtual keepsake with voices from loved ones telling them why they are special.

Easy To Create, Simple To Give

Get Everyone Involved
You pay one flat fee, so cast the net wide. Our instructions and pricing are set-up to encourage as many people to call in as possible.

Fast & Convenient
It only takes people a few minutes to call, and it's a lot easier for people to tell a story on the phone vs. writing it down.
Record Anywhere, Anytime
People can record a message from anywhere in the world on their schedule, 24 hours a day, 7 days a week.


"LOVE LifeOnRecord!! What a great gift for my mom's 60th surprise birthday party for guests that could not personally attend!! My mom LOVED it and it was so easy to do!!! "
- Julie Omodio-Griess - Mead, WA
How A Daughter Surprised Her Parents For An Amazing 50th Wedding Anniversary
What you get with every LifeOnRecord Account
Toll-Free Number
A free 1-800 number that can be used in the US, Canada, & Caribbean

Global Telephone Access
Callers can access local numbers in over 30 countries, as well as use Skype. Our system can also call people anywhere in the world to record at no additional cost.


Unlimited Recordings
As many people can call in as you like. Each recording can be up to 30 minutes and people can call in multiple times.


Control Over Recordings
From our web site you have the ability to easily trim, amplify, rename, and sequence the recordings in your account.

Instant Notification
As each recording is left you will receive an email with the recording attached, in addition to the recording getting added to your online account.
Multiple Contribution Options
In addition to calling, people can email, upload, record on our web site, and use their smartphone to record.


Easily Save Recordings
At any time you can download individual recordings, or download them all with one click.

"He said it was the best gift ever!! It's such a positive, life-affirming gift that no tangible gift could compare."
- Julie Garrett - Cary, SC
Keepsake Options Your Recipient Will Love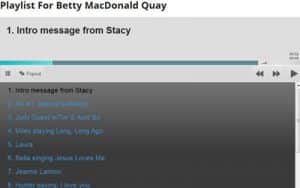 Playlist Web Page
The recipient can easily play the recordings from any computer, smart phone, or tablet simply by clicking a link - no login required. The page will automatically play all the recordings in your designated sequence or the recipient can pick and choose which recordings to play.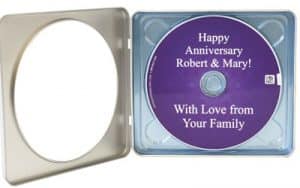 Personalized CD Set
Get a durable, waterproof personalized CD keepsake to give to someone special. Each set of CDs we send to you is packaged in a hinged, metal case with a clear plastic window so your recipient can view the title.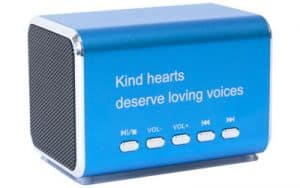 Keepsake Speaker
Enjoy an impressively crystal clear sound with this compact speaker which contains all your recordings. With 4 GB of memory and 10 hours of battery life, this audio box is perfect to listen to while lounging around the house or on the go.
Pricing
| | |
| --- | --- |
| LifeOnRecord service for one full year with unlimited recordings. | $50 |
|      Optional - Playlist Web Page | $10 |
|      Optional - Personalized CD Set (Free Shipping) | $25 |
|      Optional - Keepsake Speaker (Free Shipping) | $35 |
Specials
Purchase one or more physical keepsakes (CD Set or Speaker) and receive the Playlist Web Page for free.
Purchase 2 or more keepsakes in any combination, and receive 10% off your keepsake purchases, the free playlist web page, and free archiving (we automatically archive your recordings into long-term storage after one year. If you ever lose your recordings or your keepsake, we will restore your recordings back to your account).
Discounts and free products are reflected after you add them to your cart and press the "Add to Cart" button.

"I thought this gift idea had potential, but at the beginning I thought it might end up kind of cheesy. I was pleasantly surprised to discover that it was far from cheesy, and, in fact, was appreciated by not only the recipient, but also the people doing the recordings. They appreciated the opportunity to say what they had always wanted to say, but were never really given the opportunity to follow through until Life on Record."
- Sharon Robinson - Mead, WA
Listen To Reviews From Our Customers
A woman thankful she gave it to her father...
A couple who gave it to each other...
A woman who gave it to her very private mother...
Still listening to two years later...
The finishing touch...
From a woman who wants to keep us a secret...
100% satisfied...
The big impact LifeOnRecord had...
Got Questions? We have Answers...
Here are the top 5 frequently asked questions we receive from our customers.
Look Through Hundreds of Reviews
Use the arrows at the bottom of this section to scroll through customer feedback.

My younger sister Jane was a 47 year old lawyer, college professor, and the single mother of a seven year old son when, about 11 years ago, she first developed symptoms of muscle weakness and incoordination. Ultimately, it was determined that Jane had that most horrifying disease – ALS – also known as Lou Gehrig's Disease, an progressive and invariably fatal motor neuron disease. Due to the young age of her son at diagnosis, Jane opted to live as a paralyzed and ventilator-dependent person in order to continue participation in raising her son and to see him grow to adulthood, if possible. Time went on and Jane was forced to medically retire from her faculty position when she could no longer walk or drive safely to work. She eventually became a resident at an assisted living facility for neurologically ill/impaired individuals. This past December, I was struggling to come up with a Christmas gift idea for Jane. What do you give a totally paralyzed, and ventilator dependent person, but who's mind is still as sharp and alert as ever? I googled, "Christmas gifts for hospice patients", and found Life on Record. Jane received several calls from her former colleagues, friends, and family to her Life on Record 800 message line. Jane died March 4, 2015. In the week prior to her death, on her last day of consciousness, she listened to her messages. I could tell that they pleased her enormously, and I was so thankful to have found Life on Record for her. I am so happy and grateful for your service! I believe my sister died just a little happier due to her messages from Life on Record.
What a great way to celebrate our parents 63rd Wedding Anniversary. The recordings from our family and friends to our parents made this gift so unique and truly a time capsule! What a great idea and you guys were so easy to work with. Any questions we had you answered quickly and efficiently. Thank you!
I received a Life on Record cd for my 40th birthday last week. When I was handed the cd, I had no idea what it was. What a fantastic idea – heartwarming, personal and something to cherish for a long time. If you are looking for a way to commemorate a special date, this is perfect!
Love LifeOnRecor"! I did this for my husband's 50th Birthday. It was easy to do, the sight is well put together and the CD turned out wonderful! I also had trouble recieving my first copy which I am sure got lost in mail. I voiced my concerns to the staff and they sent me out a new copy free of charge!!! I am very happy with my experience and invite you all to try it for your special event!!!
LOVE LifeOnRecord!! What a great gift for my mom's 60th surprise birthday party for guests that could not personally attend!! My mom LOVED it and it was so easy to do!!!
Great gift – a real priceless gift that captures a life of great memories – very easy to use and do
I just received your CD "My Life on Record" for my 75th birthday. It is a precious gift from my daughters, and LifeOnRecord did an outstanding job. Thank you for this innovative idea, which is a gift I will always treasure. Great idea—great company. Thanks!
I ordered a C.D. for my husband's 50th birthday and he loved it. It was a perfect touch for his surprise party. Even people who weren't able to make his party called and left a message. I would definitely recommend this to anyone!
I created a cd for my dad's 90th birthday! He absolutely loved it!
My mother was in tears, laughing and so appreciative of her wonderful LifeOnRecord CD. There were 25 messages for her on her 80th birthday! I would highly recommend this wonderful product for that special occasion!
Why LifeOnRecord?
We know that you want to give an amazing experience for an extra-special person. We believe that you ought be able to give someone a gift they are proud of - that tells them they are loved. A gift that will bring smiles, laughter, and tears for years. You need a gift that will show them how much they are appreciated and that they have an impact on others.
Imagine giving a gift guaranteed to make moms glow with joy on their birthday, brides-to-be explode with excitement during a surprise wedding shower, and a gift so powerful it can even make a tough ole' dad tear up.
Take the stress out of buying a gift for someone that already has everything… remove all fear of dust collecting on knickknacks or giving a present that will be re-gifted. You will be giving an experience you and someone special will remember forever.
You're one click away from heart-warming well wishes, elated smiles, and tears of joy.
They're Special. Tell Them Why.
Our Over-The-Top Guarantee
The recipient will LOVE their gift, or your money back.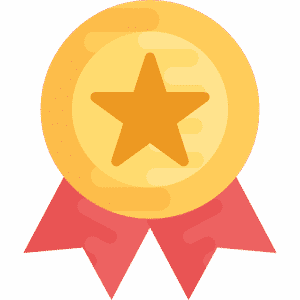 How can we make such a promise?
Because we have a 10+ year track record of hearing how much people love LifeOnRecord.
Recipients tell us they love hearing voices of friends and family talking about their positive traits and talents.
They love capturing the voices of kids at a special time.
And we often hear that after a loved one who called in passes away, hearing their voice on the keepsake brings comfort.
We take pride in the fact that nearly everyone that purchases LifeOnRecord would purchase it again.
That's how we can make our promise.
We know that the vast majority of the time the recipient will love their LifeOnRecord gift, but if you don't, we'll refund your money with no hassle or pushback.