Special Reduced Price! For a flat $50 you will receive a LifeOnRecord account with these features:
Toll-Free Number in the US & Canada

Global Telephone Access – Callers outside the US & Canada can call a local number in over 30 countries, callers can leave recordings using Skype, and we can call them at no cost.

Unlimited Callers and Recordings – each recording can be up to 30 minutes and people can call in multiple times.

Control Over Recordings – You have the ability to easily trim, amplify, and arrange the messages via our web site.

Multiple Contribution Options – in addition to calling, people can contribute messages by:

Recording messages on their smart phone voice recorder and emailing them directly to your account.

Upload messages or songs directly to your account.

Record messages directly from our web site.

Easily Play & Save Messages – You can easily save all your recordings to your computer, and stream them directly to your phone, tablet, or computer.
Optional Keepsakes to Preserve and Play your Recordings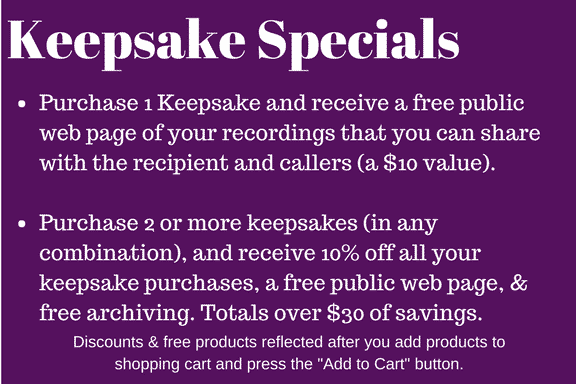 In addition to playing your recordings through a computer, tablet, or smart phone, we also offer two main types of physical keepsakes:
Keepsake Speaker – $35 (shipping included)
A LifeOnRecord Keepsake Speaker plays all your recordings without needing a CD player. This is a compact, (2 inch, by 2 inch, by 3 inch), stylish aluminum speaker that packs a surprisingly loud sound for such a small package. It has a long-lasting rechargeable battery that lasts through about 10 hours of constant playing. The speaker has controls to skip forward and back through the recordings, to pause the recordings, and to control the volume. The speaker comes in your choice of five different colors. The price includes the speaker, memory card with recorded voices, charging cable and adapter, and shipping.
Personalized Keepsake CD Set – $25 (shipping included)
You pay a flat fee regardless of the number of CDs it takes to fit all your recordings. A personalized message is printed directly onto the CD's face (there is no sticker). We use a premium printing process that gives your CDs a durable, waterproof, glossy finish. Each set of CDs we send to you is packaged in a hinged, metal case and a clear plastic window in the case allows viewing of the personalized CD title.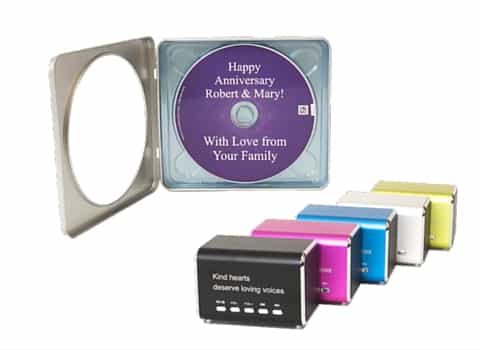 ---
Our Over-The-Top Guarantee
The recipient will LOVE their gift, or your money back.
How can we make such a promise?
Because we have a 10+ year track record of hearing how much people love LifeOnRecord.
Recipients tell us they love hearing voices of friends and family talking about their positive traits and talents.
They love capturing the voices of kids at a special time.
And we often hear that after a loved one who called in passes away, hearing their voice on the keepsake brings comfort.
We take pride in the fact that nearly everyone that purchases LifeOnRecord would purchase it again.
That's how we can make our promise.
We know that the vast majority of the time the recipient will love their LifeOnRecord gift, but if you don't, we'll refund your money with no hassle or pushback.